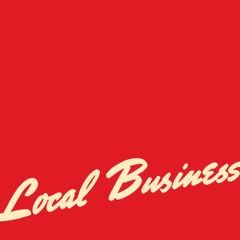 I'm sure that I'm in the minority, but I didn't love
The Monitor
like everyone else seemed to. I liked it (and still do), but I think I'd rather listen to
The Airing of Grievances
. I'd almost forgotten about Titus Andronicus when I found out that a new album,
Local Business
, was about to come out.
Titus Andronicus plays indie rock with a punk spirit. Think Bright Eyes meets The Dead Milkmen.
Local Business
opens with "Ecce Homo," whose first few seconds bring "Ring of Fire" to mind. It's a good start. Next comes "Still Life With Hot Deuce On Silver Platter," which is pretty good until the poppy line "Here it goes again / I hear you took it to another level" becomes way too repetitive. Speaking of repetitive, wait until "Titus Andronicus vs. The Absurd Universe (3rd Round KO)," which repeats "I'm going insane" over and over.
A couple of great moments also show up on
Local Business
. With a song title that should belong to Los Campesinos!, "Upon Viewing Oregon's Landscape With The Flood Of Detritus" is one of the album's highlights. Another standout track is "In A Big City," but, unfortunately, these songs are outnumbered by the often mediocre and nonsensical.
The final three songs feel a bit calmer and more reserved than the rest of the record. Titus Andronicus, however, works and sounds best when the energy and emotions run high.
Unless this album is a real grower, then it's clearly Titus Andronicus' third best. Keep listening to the first two until album number four comes out.
Grade: Fail